As the internet has evolved, the art of content marketing has also changed dramatically.
Search indexing models now focus almost entirely on authenticity and value, and whilst paid promotions will always have their place in content marketing, Google places great emphasis on quality content. Google and other search engines have also become much better at working out what great content actually is.
The future of SEO is likely to continue rewarding businesses that invest in content marketing, but investment in content needn't be treated as a bottomless pit.
Here are some content marketing tips and tricks for startups and small businesses.
1: Queries and Keywords
68% of online experiences begin with a search engine and many of those experiences begin with generic keyword searches.
Content is there to serve people and their queries. Whilst it's tempting to think that every single query is populated by hundreds or even thousands of blogs and posts, this isn't necessarily the case. Our collective knowledge is forever expanding – where knowledge goes, search engines follow!
Generating lists of keywords to use in posts is less useful than it used to be, but understanding the queries that will lead to your site is as important as ever.
A nice shortcut here is to audit your competitor's sites and discover their highest ranking, highest-ranking posts. Most good SEO tools have competitor analysis features. Once you find your competitor's content, ask yourself whether you can better their posts, or provide a unique or original angle on some of their content.
For example, "content marketing for tips for startups" could be adapted to "content marketing tips for startups and small businesses", and you might find that one is significantly less competitive than the other despite similar search volumes.
2: Personas and Demographics
When you first form a business, you might have a preconceived idea of what your audience is.
The advice here is not to assume anything about your audience but to use data from your web traffic and social media accounts to discover mutual characteristics between your users, including:
Location
Age
Gender
Interests
Jobs and professions
Finding some correlations here is not a signal to begin pigeonholing your audience, however. For example, you might be selling products aimed at men over 50, but what if their partners happen to be the ones doing the buying and not the men themselves?
Tip: Use research wisely but moderately to try and resonate with your audience across a broad spectrum at first. More targeted or segmented content marketing comes later in the sales funnel.
3: Use the Blog as a Foundation
77% of internet users read blogs and blogging can increase traffic by over 400%.
Website blogs are foundational; it's often conveyed that running a website blog is an obligation, and that's probably a fair evaluation. Whilst creating blog content is time-consuming and often laborious, it's a game of chance worth playing.
Blogs do wonders for building trust as well as SEO. A website without a blog comes across as vacant and perhaps even untrustworthy or suspicious.
Tip: What you'll often find is that, after some time of grinding out content with perhaps lackluster results, one or two pieces will eventually start picking up traffic. It might take just one piece of high-performing content to boost everything from leads and sales to social media shares and engagement.
In a sense, blogging is like mining for web traffic. You've got to keep digging until a piece of content slots right into an in-demand query. Your query and keyword research can maximize your chances.
4: Rigorously Repurpose Content
Repurposing content is a quick and easy way to multiply your content writing efforts.
Moz's Whiteboard Fridays are some of the best examples of a content repurposing strategy. It's a sort-of seminar that has industry experts discuss an SEO or marketing topic whilst writing up the lecture on a whiteboard.
The original content is produced as a video and is posted to both the blog and YouTube. There's a video transcription included in blog format.
Then, there is the image of the whiteboard itself, which is easily postable to social media.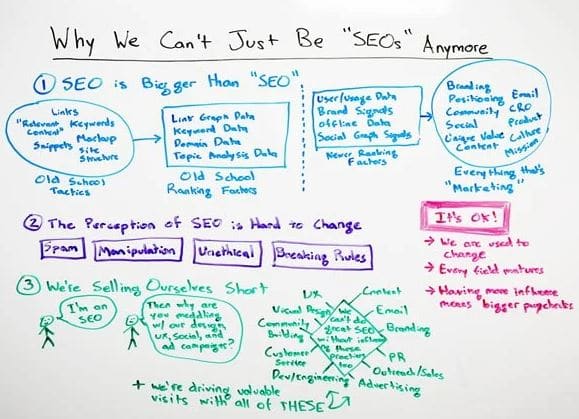 Here, one piece of content (that Moz doesn't even create themselves!) turns into several pieces of content that are published across all social channels.
Tip: Repurposing goes hand-in-hand with content automation. Content can be repurposed for social media and scheduled in tools like Hootsuite and Buffer. Check out some social media automation tools here.