So you think you know branding? This is the first of a 3-part mini-series into branding for small businesses and startups.
Branding has been around for some 4000 years, quite literally originating from the practice of branding livestock with markings to distinguish ownership. Maker's marks and hallmarks were the next major stage in its evolution, allowing craftspeople and artisans to brand their work with marks unique to themselves and their work. These marks were distinctly creative – they had a visual appeal that made the work more memorable.
In the industrial revolution, commercialization and the availability of mass-produced commodities led manufacturers to expand the concept of branding to create brand imagery and logos, trademark colors, and slogans.
And that's where branding is today.
This is the first edition of a short 3-article guide on basic branding for small businesses.
Businesses vs Brands
One cloudy area here is the difference between businesses and brands. Businesses are the organizations that create and manage products. It's the entity conducting the business activity. Brands are that business's identity.
A business does not need to be a brand and it was typical of B2B or corporate service brands to remain very agnostic in their branding, but that's not the case anymore – any business can now position itself as a brand.
What is Branding?
Whilst this seems like an obvious question, the truth is that branding encapsulates more than just the company logo. It includes branding assets such as:
Logos
Banners
Favicons
Signatures and captions
Brand messaging guidelines
Slogans
Jingles and music
Brand values
Branding is not purely visual, it includes the brand's values, voice, vision, strategy, and mission statement. Customers want brands to engage more with the social value side of branding, which according to Sprout Social, represents more reward than risk. That means discussing social topics, engaging in thought leadership, and showing self-awareness of one's industry. We'll cover this in branding 301.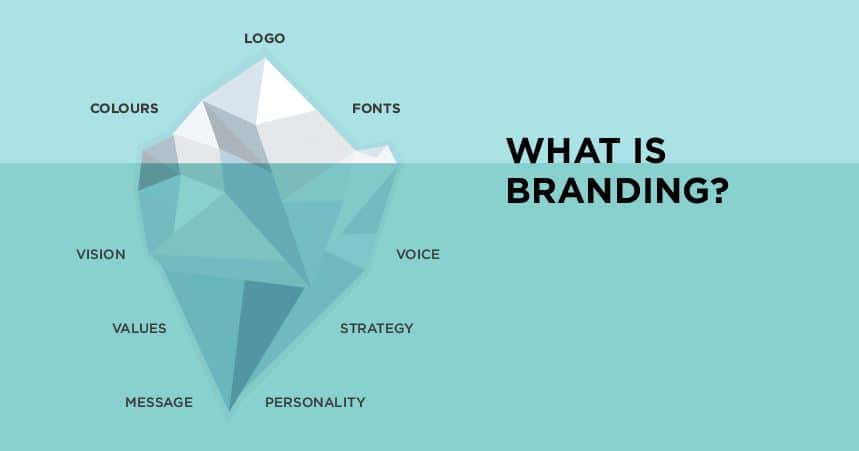 Before You Start: Know Your Customer
Branding occurs after products have been selected. You can't brand a business without knowing what you're selling, whether that be products or services.
Start With a Broad Target Market At First
Having a general target market in mind allows you to start creating branding assets, which we'll cover in part 2. If you find your customers are largely modern B2B tech and SaaS startups then this will guide your branding in a different way to if you find that it's actually more the formal financial and legal services sectors who are more interested in your product class.
For B2C, discovering an audience of Gen-Zs is much different to those born in the 70s and 80s, and so on and so forth.
At this stage, you should note down your basic sales funnel, taking into account how you'll build initial brand awareness and discovery. Early in a business's development, branding's primary role is creating top-of-the-funnel activity, e.g. awareness and recognition.
Summary: Branding 101: Branding Basics For Small Businesses
That's it for branding 101, but tune in for branding 201 where we'll delve deeper into creating brand assets.