Crowdfunding is not a new concept and provides an exciting route to funding for small or medium-sized projects. We say 'projects' because these are best-suited to crowdfunding rather than more all-encompassing business ideas with multiple components.
Instead, crowdfunding is about lifting a certain project off the ground with the assistance of a community of smaller-scale investors, though it's also a way to market to larger investors too.
Let's kick things off with a list of crowdfunding platforms to keep in mind:
For smaller projects and smaller businesses, Kickstarter is tough to beat, though Indiegogo is better-optimized for tech or invention-style projects. Some platforms, like SeedInvest, will rigorously vet each project as they aim to unite startups with serious investors.
Why Crowdfund?
Crowdfunding for small businesses provides an alternative route to funding a business, a route that is also more personable and wired into people at an individual level. Instead of pitching to banks and venture capitalists, etc, you're marketing your idea to leagues of crowdfunding enthusiasts and normal people. It's also an innovative way to promote business scaling – read our blog on business scaling here.
Crowdfunding really works, with some 40 to 50 projects being successfully crowdfunded each and every day on Kickstarter alone. What's more is that some campaigns smash their goals, raising vast quantities of money beyond the target.
Opening Kickstarter at the time of writing this revealed this novel clock, with a target of roughly $20,000, which has raised a remarkable $1,100,000+!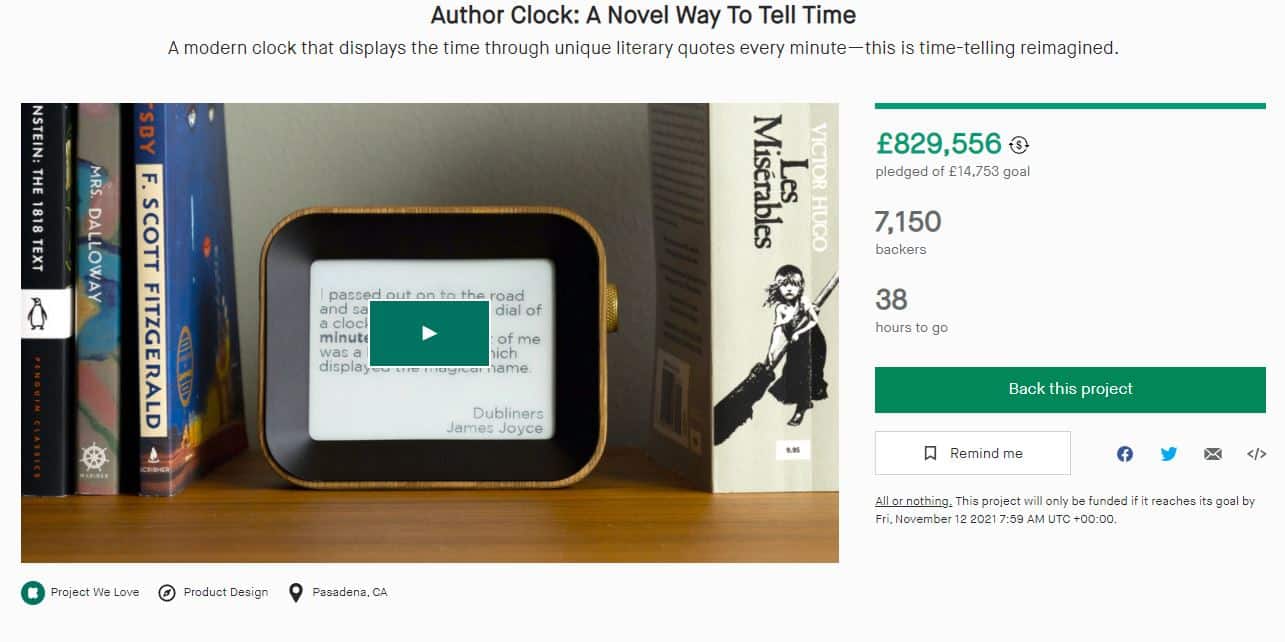 Focus on Authenticity
Crowdfunding for small businesses provides a powerful opportunity to get you, your business, and your ideas in front of potential backers.
Creative ideas with visual impact and authenticity might be quickest to get off the ground, whereas SaaS products, software, and other B2B products might work better on the more investment-oriented platforms like WeFunder.
Visual storytelling, killer branding, and engagement with target audiences are vital to shine through amongst other projects, but the biggest thing is obviously the product itself.
Engage With the Process
Crowdfunding is very hands-on, so you'll need to show that you back your project 100%. Social media engagement is a must. You can't begin crowdfunding as a ghost hoping to make a quick escape with the money.
The whole thing is very public and forthright, contrary to raising money in smaller investment circles or with banks. If you're worried about competitors robbing your idea, then it's probably not for you!
Promote Your Project
Promoting your project on all social media channels, via press releases, blog posts, and even print media in say, your local town, is vital to gaining the much-needed traffic to get your funding rolling. Roping in friends, family, and colleagues to make small investments at the start is also a good idea – anything to get the ball rolling!
Consider paid promotions on social media too, especially LinkedIn for B2B or Instagram/Facebook for creative projects.
Branding is Key
Make sure you possess all the branding collateral you need before you begin. Create infographics, design social media posts, and ensure product branding and messaging align with your website and any other channels.
Become an Investor Yourself
Get involved in the community prior to launching your project, and if possible, back some projects yourself. Crowdfunding for small businesses especially mainly thrives through the virtuous action of its supporters and enthusiasts – what goes around might come around!