The food truck and mobile catering industry rolls on, growing around 7.5% between 2015 and 2020 according to Small Biz Genius.
With average yearly revenues of $150,000 to $200,000, it's hardly surprising that many people are willing to take the initial plunge on investing into the truck itself. After all, that's pretty much all you need…aside from filling out some hefty stacks of paperwork for permits and compliance!
This is a short guide to how to setup a food truck business in 2022 and beyond.
Food Trucks: Some Stats and Insights
There are some 24,000 food trucks in the US, though this figure is always growing
Food trucks are increasingly being used to serve diners like an open-air restaurant rather than a takeaway
Millennials love food trucks, with 47% making return visits to their favorites
Food trucks are fun, exciting, and authentic, according to enthusiasts, which is a major part of their appeal
About 30% of revenue is generated through events
Licensing can cost some $28,000 in some cases
The truck itself will likely cost between $20,000 and $50,000
Food trucks can pay for themselves in just half a year
After experimenting with food trucks, many people go on to explore other types of catering, e.g. setting up a restaurant
Portland and Denver are amongst the cheapest and best cities in the US to operate a food truck, with Boston being the most expensive
Festivals offer an increasingly lucrative opportunity for food truck vendors
Getting Started: The Menu
First and foremost, you'll need a menu.
You can cook pretty much anything in a food truck or truck, ranging from classic American food like burgers and hotdogs to Mexican and international cuisine, pizza, desserts, or healthy and fresh foods.
The important bit is having a niche angle that draws attention. Taking a creative, gourmet or otherwise leftfield angle might seem risky, but so long as you offer something for everyone, it's probably worthwhile.
Read Curry Up Now's success story here; the founder, Akash Kapoor, spotted a gap in the North American market for Indian food and created a portable menu of Indian street food fused with burritos, tacos, and quesadillas. This initial food truck business quickly developed into a small empire – which is something innovative food truck businesspeople find so often.
Your Investment: The Truck and Paperwork
Next up, the truck. The food truck must be operationally effective for cooking your intended menu.
DIY alterations and customizations can help re-appropriate secondhand trucks from sites such as:
There's a stunning range of trucks on many of these sites ranging from compact trailers to full-blown festival-capable trucks with advanced catering gear already fitted and ready to go.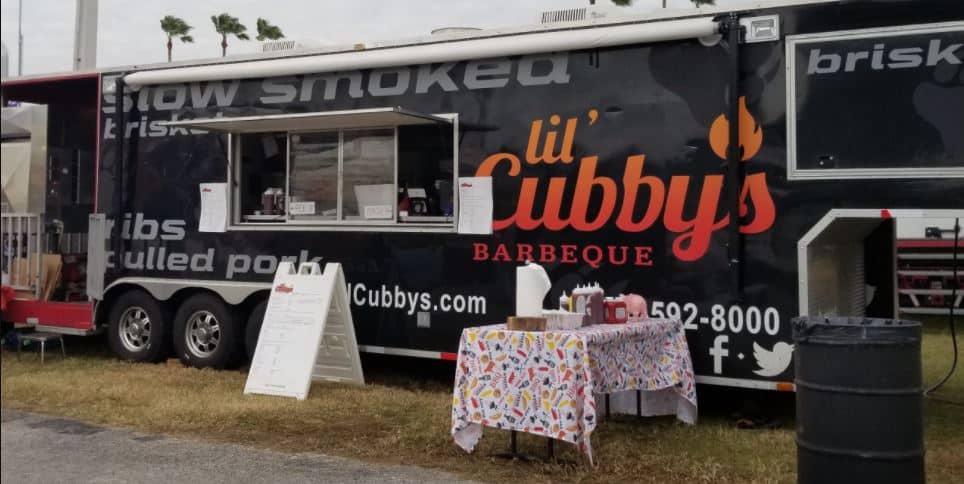 There's tons of variety for secondhand food trucks. Obtaining one isn't the hard bit – the paperwork is. Paperwork varies hugely, but in the US context, you'll need to obtain permits for any state, city, or county you wish to operate in. There is also food safety, parking permits, and fire compliance to think about. It's a similar story wherever you go, for example, in Canada, Toronto city officers recently came under fire for exorbitant fees on local food trucks.
Mobile Cuisine has an excellent set of resources for food truck permits and compliance in the United States.
Another thing to consider is a POS system. Square is an industry leader here, helping caterers of all kinds offer digital payments to their customers.
Your Business: Promotion and Pitching to Events
Once you've laid the groundwork for your food truck business, it's time to get the name out there and start promoting it. Establishing a social media presence will be highly useful when it comes to pitching to events and festivals. Read our small business social media tips here.
Pitching to events is vital for making the most out of the summer and holiday seasons. Festivals are a big one here and each will likely have its own application system. There are plenty of dedicated food truck festivals to look into as well, if you live in the USA.
Summary: How To Setup a Food Truck Business
This is just a quick-start guide to setting up a food truck business – but the concept is simple in principle. Food truck businesses can quickly develop into something a lot bigger – that's where shrewd entrepreneurship will help.
With careful budgeting, astute pitching to high-value events, and a solid promotional strategy, your food truck can become one that rolls on to bigger things.
For similar business ideas, check out our top business ideas for 2022 and beyond here.